And the return of our 4th sister: Laura Gaida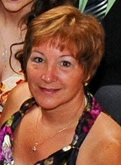 In the past year, Laura has visited 55+ facilities, including independent living, assisted living, recreation centers and senior groups. As Laura interacted with many different types of senior adults, she found that the people who like to play games really like to play games that are challenging, well thought out – and of course - high quality games that are reasonably priced. People also loved it when family members and friends of ALL GENERATIONS could play the same game with no one feeling left out. She also learned that no matter what your age, it feels good to exercise your brain, listen to stories from young and old, and spend quality time together – creating lasting memories.
Keeping these valuable lessons in our thoughts, we will continually bring you products to help bridge generations and create lasting memories, while improving your concentration, problem solving, memory and small motor skills – just to name a few!
We didn't forget the facilities that bring everyone together. We carry a wide selection of decoratives: seasonal and holiday borders, colorful trims and bulletin board sets.You'll also find activity books and planners. Click on the appropriate link in our menu to see all of our wonderful products! Just as our parent company, Learning Gizmos, has done for over 18 years with superintendents and principals, we will work with facility administrators as resources for new ideas and products.
Laura is always willing to talk to you about our products and services. Please email or give her a call.
Laura Gaida, Director
Sensational Seniors
c- 586-467-2100
email: lgaida@learninggizmos.com